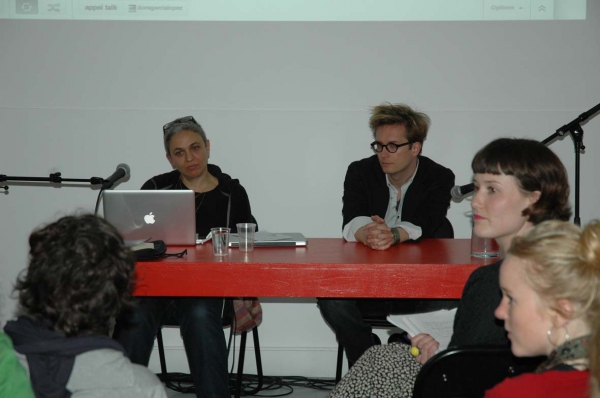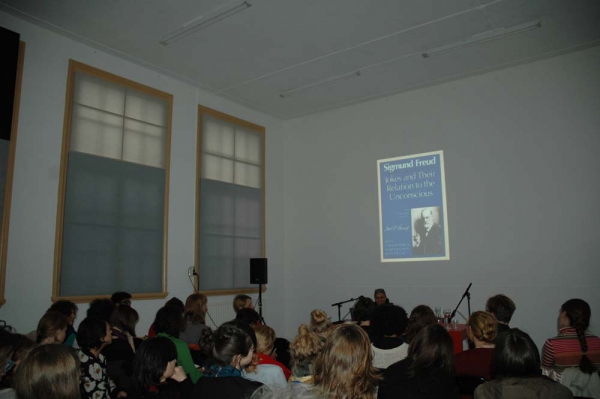 We welcomed as guest speakers British philosopher Simon Critchley (impersonated by Bram Ieven) and Spanish artist Dora García. The topic of the day revolved around the notion and nature of humour andthe figure of the comedian and its relation to an audience. Lectures were followed by workshops led by the speakers.
In his talk Simon Critchely explored the notion and nature of humour, from the general history of its significance to its relation to jokes, the comic and art. His lecture also dealt with how humour is conceptualized in contemporary society and its specificities in relation to locality (or universality) and time.
For Three Artists Walk into a Bar… Dora García focused on the work of 3 comedians: Andy Kaufman, Lenny Bruce and Elaine May. Through the description of a very short sketch by each of them, she attemptedto present the very complex exchange of codes between comedian and audience.
Biographies
Simon Critchley is a British philosopher, currently teaching at The New School, New York. He works in continental philosophy. Critchley argues that philosophy commences in disappointment, either religious or political. These two axes may be said largely to inform his published work: religious disappointment raises the question of meaning and has to, as Critchley sees it, deal with the problem of nihilism; political disappointment provokes the question of justice and raises the need for a coherent ethics. Critchley is 'chief philosopher' of the International Necronautical Society, a semi-fictitious avant-garde network that surfaces through proclamations, 'denunciations' and live events. He is the author of Ethics-Politics-Subjectivity (1999), Very Little Almost Nothing (1997), Continental Philosophy: A Very Short Introduction (2001) and On Humor (2002). In the latter Critchley argues that humour is an oblique phenomenology of ordinary bringing about a change of situation that exerts a powerful critical function. On Humour has been translated into 10 languages and has exerted considerable influence over debates around the role of humour in contemporary art practice.
The biography of dr. Bram Ieven you can find here.
Since the early 1990s, Dora García's work consists in creating situations that modify the traditional relations between the artist, the work and the viewer. Using video, writing and performance, she considers herself as a stage director. She imagines scenarios with specific rules, determining the various behaviours (actors; viewers). She evaluates then the relations that it creates. Working in public spheres, museums or galleries, she explores Brecht 's theatre, Artaud's impact, but also figures such as Lenny Bruce, Jack Smith or Guy de Cointet. She has exhibited in the Biennials of Venice, Lyon, Athens, Sydney, and Istanbul; in Münster Sculpture Projects and Manifesta, and has had solo exhibitions in museums such as the MNCARS in Madrid, MACBA in Barcelona, GfZK in Leipzig, SMAK in Ghent, and Kunsthalle Bern.