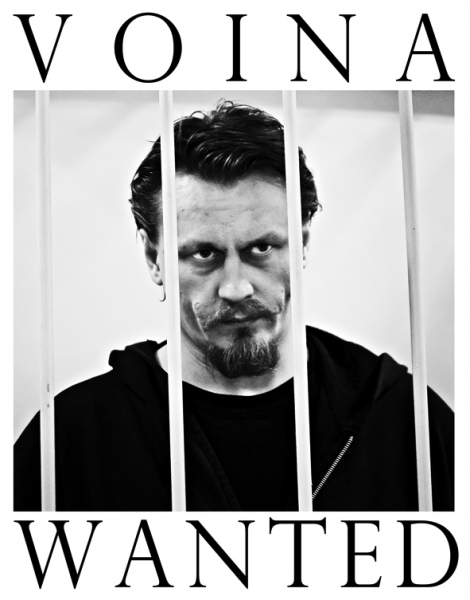 The Black Swan is happy to welcome you at de Appel Boys' School!
3pm: doors open
4.30–6.30pm: lectures by artist group VOINA (on Skype) and Prof. Joost de Bloois
7–8pm: workshops with artist group VOINA and Prof. Joost de Bloois
8–10pm: screening programme
Our first Saturday will begin at 3pm, right after the performance of Anna Luczak that will start at 2pm on Dam Square under the Dutch National Monument. Anna will lead the audience along to de Appel Boys' School.
At 4.30pm, the first discussion with our international guests will take place. For this Saturday the speakers will be VOINA (on Skype), the controversial collective of Russian artists who are currently co-curators of the 7th Berlin Biennale, and Joost de Bloois, assistant professor at the departments of Comparative Literature and Cultural Analysis of the University of Amsterdam, who focuses on the nexus between art and politics. Central to this day will be the use of humour as a subversive strategy in the cultural and socio-political realm, by looking at its application in artistic practices on the edge of activism. The lectures will be followed by workshops led by the speakers. For these you need to sign up in advance, see more information below.
During and after the workshops, there will be aperitifs served in our pay bar, curated by Talia. Then get ready for the film club in our onsite cinema with each week a surprising set of movies, selected by the whole exhibition team. Bring your own popcorn!
Throughout the day at the Boys' School, you can find information and reactions to the works that are happening outside of the gallery space. You can leave your comments too!
4.30–6.30pm: lectures
Via Skype, VOINA group will present their most important actions and the reactions they provoked within Russia and worldwide.
Joost de Bloois will give a lecture titled Adjectives in Search of Nouns: On 'Political Art'. In his lecture, Joost de Bloois will ask pertinent questions as to what it means to politicize art and the subjects that define themselves through it? Where does this leave the political? Can it only be thought as an adjective? What then does it mean if attaches itself to art? And is there any fun to be had in all this?
"We can hardly overlook the revival of 'political art' over the past two decades. In current art discourse as well as practice, 'politics' seems to have come of age once again: it now operates freely, without such additives as 'sexual' or 'identity'. The mediating third in the nexus between art and politics seem to have vanished, both now coalesce directly into 'political art'. However, by no means the significance of 'political art' is the subject of consensus: on the one hand, we encounter art as a direct means of organizing political interventions; at the other extreme, we encounter, for example, the particularity of today's Dutch context which consists in art being politicized against its own choosing. In fact, the very possibility of 'political art' demands a definition, constructed through both theory and practice, of two pivotal modern concepts."
7–8pm: workshops
VOINA created a special workshop for this occasion, VOINA WANTED. Open for all. No reservation needed. More details here.
Joost de Bloois' workshop will be available for up to twenty people. We'll dive into the content of his lecture and discuss directly.
Send an email to info@threeartistswalkintoabar.com, subject WORKSHOP + Date + Name of preferred speaker, and reserve your seat now!
8–10pm: screening programme
Be surprised in our onsite cinema with a full programme of works, snippets, films and YouTube links, selected by the participants of the exhibition. Join us if you want to see what happens when over 90 artists walk into a cinema!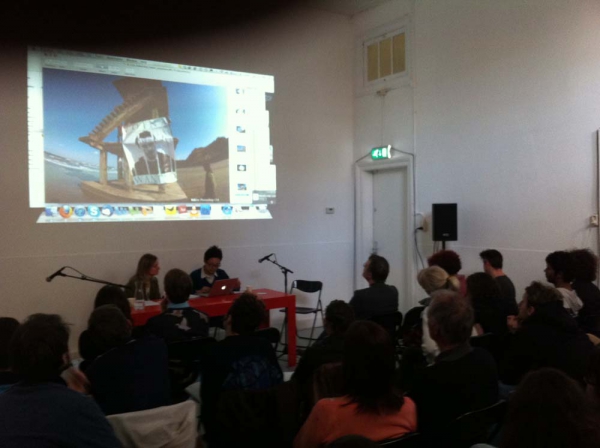 Biographies
VOINA (russian: WAR). A street collective of actionist artists who engage in political protest art. Political orientation: anarchist. Enemies: philistines, cops, the regime. Voina's works come out of a collaborative process between Oleg Vorotnikov (ideologist), Natalia Sokol (coordinator), Leonid Nikolayev (Crazy Lenya) and Alex Plutser-Sarno (media artist, author of the group's media art and texts). Initially, Voina's actions were clandestine and anonymous, and were termed "training" or "practice". Voina has enjoyed public recognition since 2008. To date, over 200 activists have participated in Voina actions.
Voina rejects to work with any Russian curators or gallerists. The group doesn't cooperate with any state or private institutions. In 2010—2011, Vorotnikov and Nikolayev were detained in jail for 3.5 months under accusation of inciting hatred towards the police by means of their art actions. They were released from custody as artist Banksy bailed them out. At the present moment both Vorotnikov and Sokol are wanted by the police. Voina activists have experienced dozens of arrests, searches, assaults and batteries committed by Russian cops. The latest arrest was made on October 18, 2011 at the moment when the group was filmed by German television journalists.

Joost de Bloois is assistant professor at the departments of Comparative Literature and Cultural Analysis, University of Amsterdam. His research focuses on the nexus between art and politics; he has published on Tiqqun, Badiou, Derrida and Deleuze, amongst others, as well as on issues of precarity, artistic labour, autonomist thought and conceptions of anarchy. His writings on art and politics have appeared in publications such as Volume, Metropolis M and nY. With Ernst van den Hemel he is preparing a volume on Alain Badiou's Inaesthetics (forthcoming 2012) and with Frans Willem Korsten Art and Capital: Histories of an Affinity as well as a special issue of Rethinking Marxism, on the notion of post-autonomy (forthcoming 2013).