Closing event @ de Appel Boys' School, from 6pm till late!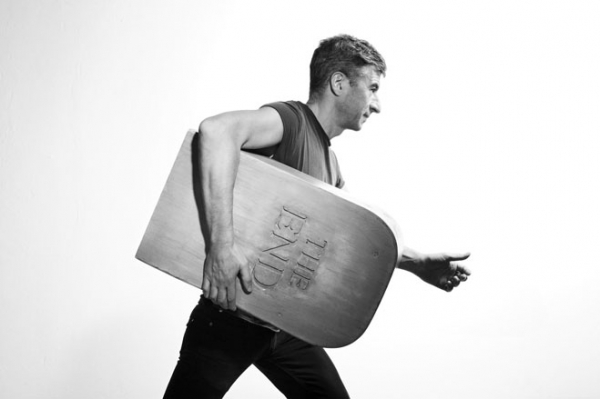 Maurizio Cattelan. Photo: Pierpaolo Ferrari

COME ONE
COME ALL

YOU CANNOT MISS IT!

THE BLACK SWAN PROUDLY PRESENTS:

Coming out of retirement for one night: Maurizio Cattelan!

It is with great pleasure that The Black Swan (de Appel Curatorial Programme 2011/2012) invites you to the closing event of the multi-site exhibition Three Artists Walk into a Bar… on Saturday 12 May at 6pm in de Appel Boys' School Eerste Jacob van Campenstraat 59 (entrance: Ferdinand Bolstraat).

For the finissage of Three Artists Walk into a Bar…, Maurizio Cattelan will make a one off appearance. In conversation with the curators he will discuss his practice and his response to selected works from the exhibition.

Renowned as provocateur and prankster, Cattelan is the creator of some of the most striking, humorous and extreme works in contemporary art. His works reveal the contradictions that underpin our society today while excoriating structures of authority and power. Cattelan's indiscriminate gestures have, at times, taken the form of creative appropriations at the edge of criminal activity. For the exhibition Crap Shoot curated by de Appel Curatorial Programme in 1996, he stole the entire content of the Gallery Bloom in Amsterdam before transforming it in his own work (Another Fucking Readymade, 1996).

In November 2011/January 2012, Maurizio Cattelan had a retrospective show at the Guggenheim Museum in New York and it marked his retirement from contemporary art. The Black Swan states: "Cattelan has been invited because his practice has been a major reference point during the conception of this exhibition. We take inspiration from his persistent and fierce tenacity that he employs to provoke, challenge and unveil the inconsistency of the contemporary art system. Cattelan's use of humour and irony in questioning the moral and social boundaries of politically correct behaviour have also made us reflect on the tools and position that we undertake in everyday life. With this gesture, we pay homage to one of the artists who has been an integral influence in the development of our exhibition and minds."


…and DON'T MISS YOUR LAST CHANCE TO SEE WORKS ON A ONE-OFF GUIDED TOUR!

Before the final event with Maurizio Cattelan The Black Swan offers a guided tour through the city visiting works and performances.

Programme of the tour:
Start 11.30am – Meeting point in front of Central station, next to the Metro entrance
End 6pm – de Appel Boys' School

11.30am – Haseeb Ahmed "World of News, Shoes, Booze", Central Station, Amsterdam

1pm – Efrat Gal "Punch Line – German Bakery", Ferdinand Bolstraat 168-2, Amsterdam

2pm – Visiting certain works in de Pijp and lunch (if time permits). Works on view: Yosuke Amemiya "Apple", Hyemin Kim "A Capricious Sign", Irene O'Callaghan "Cradle's pictures", Amanda Wasielewski "I See What You Did There / I Did What You See There"

3.30pm – David Bernstein, Géraldine Longueville, Jurgis Paškevičius "Who Is Knocking At My Door?", Bosboom Toussaintstraat 29-2, Amsterdam

5pm – Janneke van der Putten "A Sonic Investigation: The Playground In Re-Turn ", Dora Tamanaplein, Amsterdam

5.45pm – Back to de Appel Boys' School
13 May
1am – Deniz Unal & Olivia Dunbar "O R A L S", De Club Up, Korte Leidsedwarsstraat 26-1, Amsterdam

Participation: Free except for public transport costs
To sign up for the tour please send an email to: info@threeartistswalkintoabar.com, subject: guided tour. You can join the tour at any moment of the day by calling this number: + 31 (0)6 3081 3882.

Join the closing party at de Appel Boys' School with DJ Bushdoof!